WAYLAND ELEMENTARY LIBRARY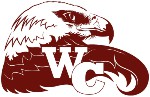 Mrs. Meldrum is the elementary library every day and will lead students through their weekly lessons and book-borrowing experiences. She will help students pick out a wide range of books meant to help develop a taste for reading and learning. She will assist students in finding books of an appropriate reading level, books to challenge thriving readers and books to interest readers who may struggling to connect to the written word. She'll assist teachers with planning and collecting special materials for class lessons as well.
Most of all, Mrs. Meldrum will help engage children in the literary world and encourage the youngest readers to find a love for books!