EDIT MAIN
Wayland Elementary Library
Due to hybrid learning the library is temporarily closed for student check outs. Families will be notified when this changes.
STUDENT BOOKS
Per the current pandemic situation, students will be using classroom libraries and the Book Room leveled books only. Older students can also access SORA our online library found on our website (https://soraapp.com/welcome/login/202896). This has every genre of book, graphic novels, chapter books, and non fiction books you "loan" and "renew" just like our library. For younger students we have Rosen Level UP (https://www.wccsk12.org/article/278449?org=CES), where students can access age appropriate, leveled books with 5 question quizzes. Other approved literacy resources and log-in information can be found by accessing Fish for Info on our district website (https://www.fishforinfo.org/resources/wcow) or our WCCS District Subscription Information Sheet. https://docs.google.com/document/d/1_yLNmU3lmJ5CxWxi-XivA7AF838k7W8IbNa_O2KQjGE.
---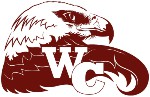 Mrs. Meldrum is the elementary library every day and will lead students through their weekly lessons and book-borrowing experiences. She will help students pick out a wide range of books meant to help develop a taste for reading and learning. She will assist students in finding books of an appropriate reading level, books to challenge thriving readers and books to interest readers who may struggling to connect to the written word. She'll assist teachers with planning and collecting special materials for class lessons as well.
Most of all, Mrs. Meldrum will help engage children in the literary world and encourage the youngest readers to find a love for books!
---
Happy Reading!
Fish for Info (Online Database)
Follett Destiny (Library Catalog)