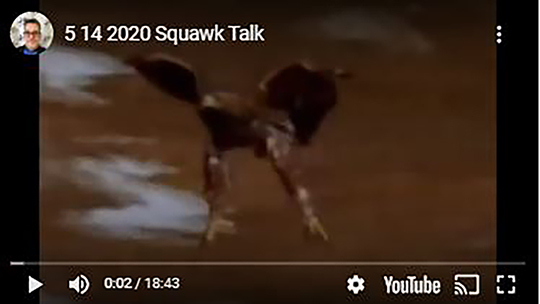 MS Squawk Talk show earns a Buffalo Bills Shout out - Hosts respond with $100 donation to food pantry
WCCS
Wednesday, June 10, 2020
When the COVID-19 closure started, Wayland Elementary Teaching Assistants Elise Meldrum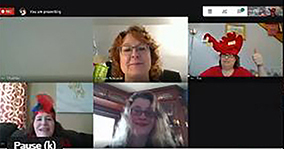 and DeeDee Kuhn took their great morning announcements comedy routine to YouTube. The morning show on Mondays, Wednesdays and Fridays hit the internet with grand success.
Looking for a way to connect and unite the dispersed student body and staff, Music Teacher Joan York, Counselor Jean Antkowiak, French Teacher Stacey Holderer and Special Education Teacher Shelby Webster took to the airwaves as well with a Middle School version called Squawk Talk. Their show features special guests, middle school related information, emotional support discussions and loads of comedy. The show is produced with the help of Joan's husband and High School Science Teacher Rich Miller (who started a show in the high school, now featuring the voice of the HS morning announcement emcee and senior Rachel Joseph).
As our community was in the thongs of coping with COVID-19 closures, increased unemployment and increased food insecurity, the local food pantries were finding themselves low on supplies. Mrs. Holderer's daughter happens to be dating a member of the Buffalo Bill's and the quad of middle school teachers came up with a plan. They each pledged a $25 donation for every shout-out they could get from a Buffalo Bills player.
Sure enough the shout-out came from team member Spencer Long on the May 14th show. If you missed it, check out the link HERE! In response, the four co-hosts made good on their word and made a $100 donation to the Wayland Food Pantry. Mr. Long's message was to keep working and learning in spite of the closure - a good message during this time of virtual learning.
Keep checking out the show oN Tuesdays and Thursdays. Look for the Wayland Elementary version on Mondays, Wednesdays and Fridays as well and don't miss Rachel Joseph along with Mr. Miller and HS Math Teacher Bruce Hartman and HS Aide Matt Bondgren in the high school version. Many thanks to all of these adults for using humor and information to connect and care for kids and families during this time. Congratulations to Rachel Joseph as she inches towards graduation and thank you for your mornings of humor, wit and information each morning. Wayland-Cohocton wishes you the best.