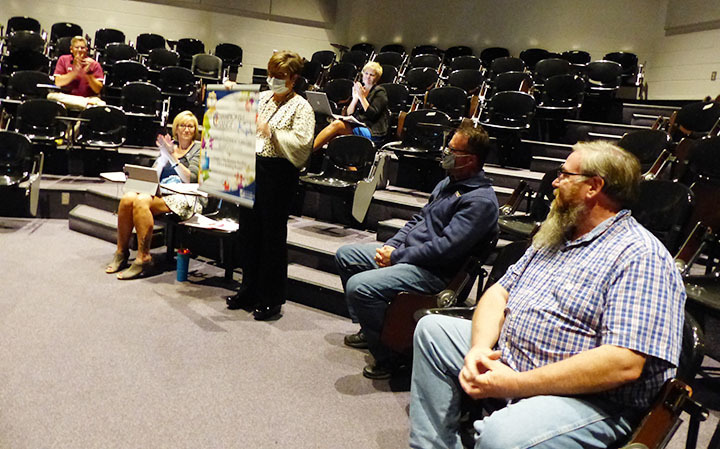 Hughes, McLaughlin recognized as Champions of Change for Timber Frame Class
WCCS
Tuesday, September 15, 2020
STEAM Timber Frame Teachers Rob Hughes and Jim McLaughlin have received the New York State School Boards Association (NYSSBA) Champions of Change recognition.
"It has come to our attention that there is a creative program in your school district that deserves recognition - Finger Lakes Museum Pavilion STEAM building project - and we would like to pay tribute to those who make it possible," wrote Executive Director Robert Schneider. "We understand there are many incredible meritorious programs and projects throughout the state, and NYSSBA is celebrating yours!"
"Our class is a perfect blend of many different disciplines. Asice from the academic benefits, however, is the opportunity for students to build self-esteem as they create something truly grand," said Rob Hughes. " Young people really have important things to say but often struggle to find the right way to express themselves. By building these frames they are able to make a personal statement that will last for generations to come."
Superintendent Eileen Feinman presented Mr. Hughes and Mr. McLaughlin with a banner that will be displayed in the school. The banner was given by NYSSBA and presented during the September 14, Board of Education meeting.
"We thank the board for its continued support and no matter what happens this year, students will still have a fantastic experience," said Mr. McLaughlin.
Due to the hybrid and remote learning models at Wayland-Cohocton, the STEAM class is looking at possible projects this year that can be completed with the unusual schedule of students not being all together all the time. Currently they are speaking with local organizations about their next project. The most recently completed project can be found at the south end of Loon Lake. Other projects can be found in Cohocton Town Square, at the Hatch Hose Fire Department in Atlanta, and Wayland-Cohocton High School.