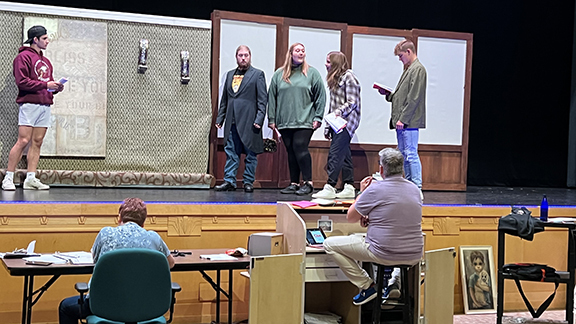 Actors work with Mrs. Peaty and Mr. Miller during rehearsals of Clue.
---
Wayland-Cohocton Central School Theater Group will present Clue, The High School Edition on November 17th-19th at 7 p.m. in the Performing Arts Center.
As the play opens, It's a dark and stormy night, and the audience has been invited to a very unusual dinner party. Each of the guests has an alias, the butler offers a variety of weapons, and the host is, well… dead. So whodunnit? Join the iconic oddballs known as Scarlet, Plum, White, Green Peacock and Mustard as they race to find the murderer in the Boddy Manor before the body count stacks up anymore. Based on the cult classic film and the popular board game, Clue is a madcap comedy that will keep you guessing until the final twist.
Titan Rocha, Claire Donlon, Harlee Grodis, Anna Ammarell, Alan Ake, Pearl Walker, Elijah Currier, Michael Gammell, Landen McCarthy, Gabrielle Guido, Carter Webster, Sam Drake, Victoria Bevis, Julia Wray, Kailyn Mark, Jesse Smith, Dakota Smith, Theressa Swingle, Kayla Flickinger, Merissa Slayton, Mya Button, Teresa Cicora, Alanna Amedick, MaryLi Nielsen, Raven Parkison and some additional surprises!
Admission is $5 and available at the door. Curtains go up at 7 p.m. each night.