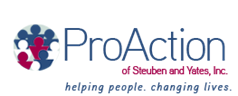 WIC qualifications broadened during COVID-19
ProAction & WCCS
Thursday, April 16, 2020
If you or someone you know has been affected financially by COVID-19, WIC may be able to help. WIC (The Special Supplemental Nutrition Program for Women, Infants, and Children) provides pregnant women, new and breastfeeding moms, and children under age 5 with healthy food, breastfeeding support, nutrition advice, and referrals to other services.
Steuben and Yates County residents are encouraged to reach out to our WIC Help Specialist, Amanda, either by text/call: (607)-377-4313 or via email at: DowdleA@proactioninc.org for more information or to find out if they may be eligible.
Visit our website: www.proactioninc.org for more on all programs and services at ProAction of Steuben and Yates, Inc.