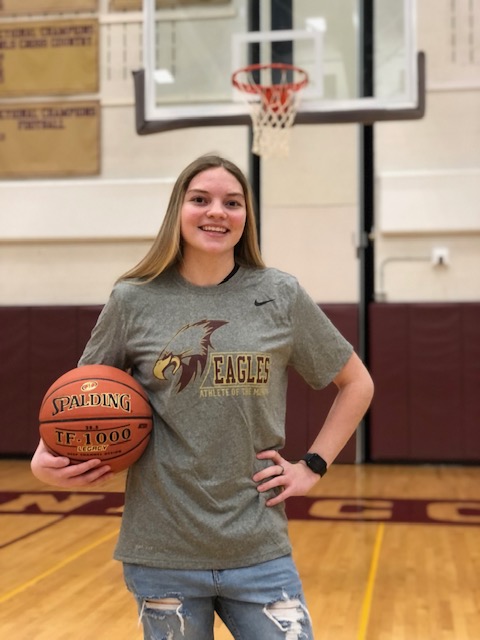 Mackenzie Pickard
Mackenzie Pickard has been selected as the female Athlete of the Month for December as a member of the Girls' Varsity Basketball team. Now in her second year on varsity, she credits a lot of her success to great coaches in her athletic career along with a dedication to improvement and her teammates. When asked what it took to earn this award, she stated:
"It takes a lot of dedication and love for the sport you play. Not only do you need a love for the sport you also need to care for the people you are playing with. Always be positive and try to lift those around you up. No matter the amount of skill you think you have, always make sure you give your all."
Mackenzie has been a reliable teammate this season and contributes in all phases of the game. She is among the team leaders in scoring and rebounds. Her coaches praise her uplifting attitude and positive encouragement on the court and in the locker room.
Nickname: Kenz, Pick, Ming Ming
Favorite Food: Anything homecooked!
Motivational Quote: Obstacles don't have to stop you. If you run into a wall, don't turn around and give up. Figure out how to climb it, go through it, or work around it." – Michael Jordan
People To Thank: All her coaches, past and current, including Danielle Blair for her hard work. Also, her teammates she looks forward to playing with every season.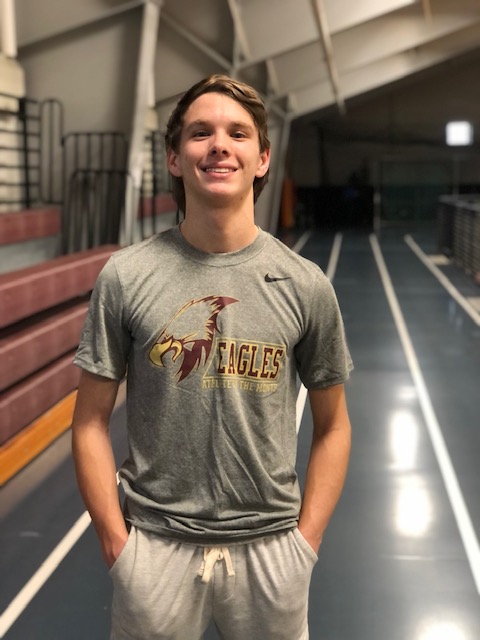 Wyatt Mastin
Wyatt Mastin has been selected as the male Athlete of the Month for December as a member of the Boys' Indoor Track team. Now in his 3rd year as a varsity runner, Wyatt recognizes that it takes perseverance and courage to compete at a high level in track. Coach Martin described him as "a very hard worker that pushes himself everyday in practice. Even when he's supposed to be running 85%, he is running 95-100%." His consistent effort has him ranked 3rd in the 1000 meter run in Class A3 and 6th in the 1600 meter. When asked who he would to thank for his success thus far, Wyatt stated:
"I want to thank Mrs. Bondgren, Coach Rizzieri, and my long-distance coach, Mr. Snyder. They have help me with learning how to keep a pace, what my stride should look like, and how to be an all-around great track star!!
Wyatt is a very talented runner with aspirations to compete at the college level. As a student and athlete, he is proud of his teammates and the environment that Wayland-Cohocton provides; he always feels there are people willing to help him and he is just as happy to lend a helping hand as well.
Favorite Food: Chicken wings
Fondest Sports Memory: Finishing 1st in Bath with a 5:02 mile
Pre-Race Ritual: Listening to motivation speeches on YouTube
What Did It Take: Determination, Leadership, and Responsibility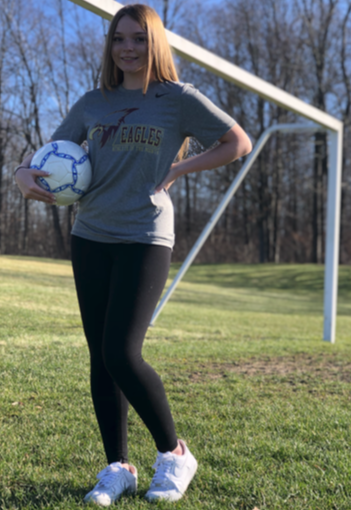 Kloe Azzi has been selected as the female Athlete of the Month for November as a member of the Girls' Varsity Soccer Team. Now in her second year on Varsity, Coach Martin described Kloe as: "always positive and a good role model for her teammates." Her consistent hustle, strong defense, and competitive nature were always evident. When asked what it takes to be successful in soccer, Kloe stated: "In practice, you have to balance fun and work. I believe that how you practice is how you'll play in the game."
When asked what makes her proud to be a Wayland-Cohocton athlete, she said:
"Despite being a small school, we are all really supportive of each other and always have an audience. In my opinion, Wayland-Cohocton has some of the best sportsmanship and team chemistry."
Favorite Food: Quesadillas (claimed to be the best food ever made)
Fondest Sports Memory: Middle School Travel Soccer
People to thank: Mom for always pushing her to participate in sports because it has made her the person she is today.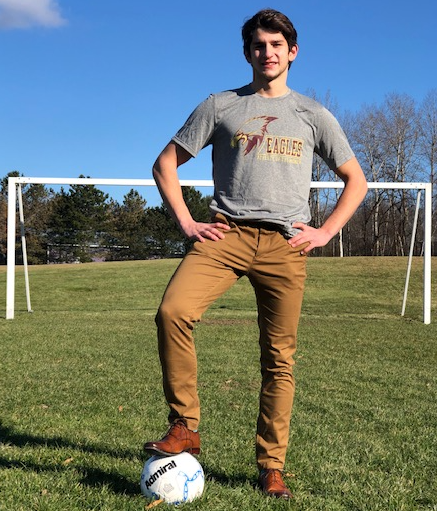 Titan Rocha has been selected as the male Athlete of the Month for November as a member of the Boys' Varsity Soccer Team. Having spent the past three seasons on the varsity team, Titan will never forget the Class B2 sectional finals run, Wayland-Cohocton's first ever appearance. When asked what his fondest memory is, he stated: "Scoring against Penn-Yan in the semi-finals to bring Way-Co to its first finals appearance is most definitely my favorite moment." His motivation and strong play during sectionals were fueled by a desire to keep a special season alive; one that thrived on brotherhood and comradery. Coach Owens described Titan as the team's "rock in the midfield." He is proud competitor that credits his coaches for catering to individual needs while making decisions that are best for the team.
When asked what it takes to be successful in the soccer, Titan remarked:
"What I learned most from this last season, being strong and having grit is what will win high school soccer games."
Favorite Food: Can't go wrong with a good steak
People to Thank: Coach Owens, Coach Martin, Coach Welch, Coach Miller, Coach Rizzieri, Coach Wager, and Coach Schnitter for all help over the years
November (Sectional Play) Stats: Preserved a shutout against Dansville, had two goals and an assist against Attica, and scored the goal scored against Penn Yan to punch their ticket to the finals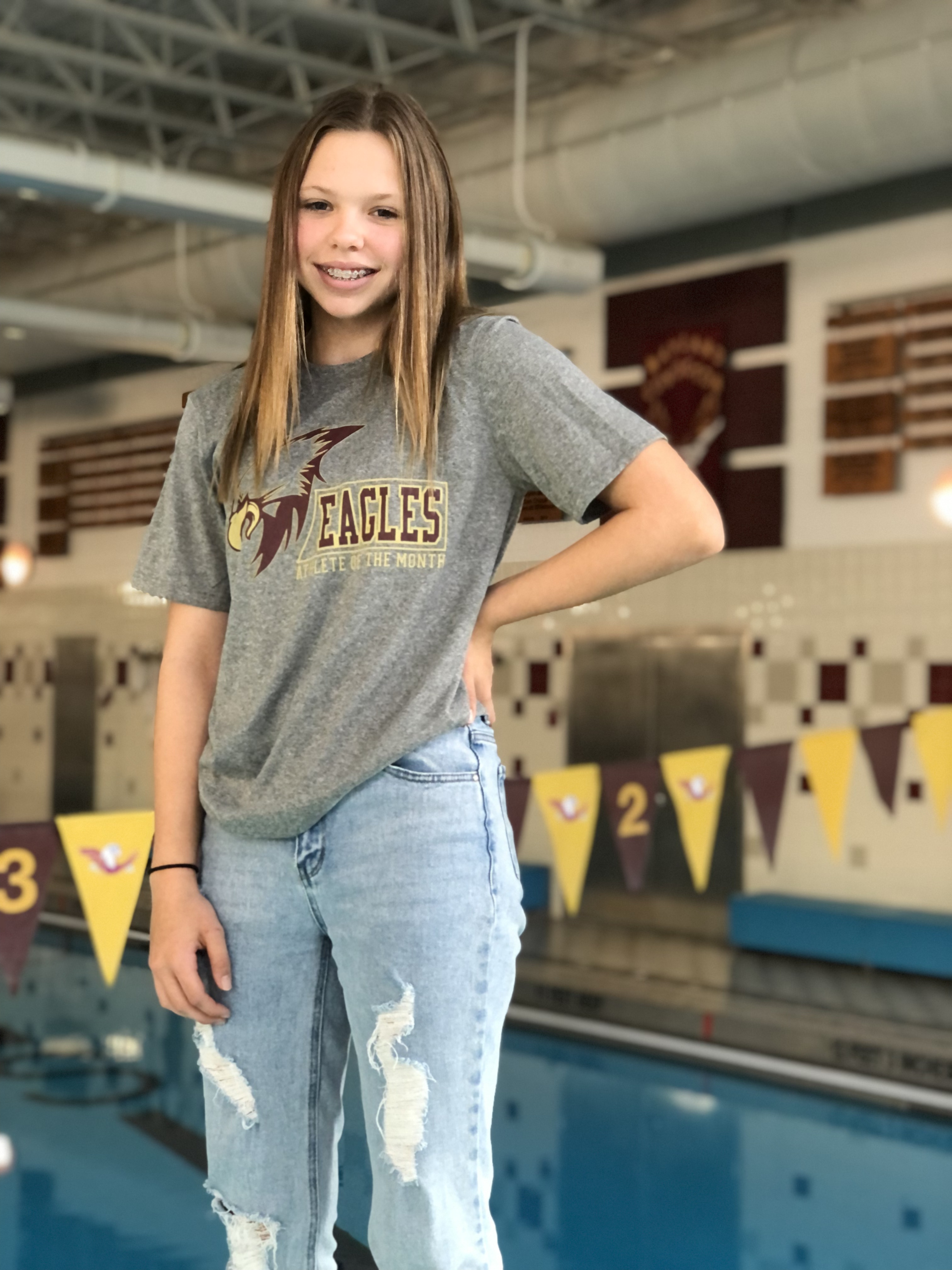 Claire Donlon
Claire Donlon has been selected as the female Athlete of the Month for October as a member of the Girls Varsity Swimming and Diving team. She is currently a sophomore but already has three years of varsity experience under her belt. Specializing in diving, Claire has represented Wayland-Cohocton proudly all season long. In the LCAA Championships, she finished in the top three for all four events she participated in which included a 3rd place finish in the diving championship. During the Class C Sectional Diving Championship at the Webster Aquatic Center, Claire rebroke her school record on her way to a 2nd place finish. When asked what it takes to successful in swimming and diving, she stated: "Showing up, working hard, and having a positive attitude." Claire also mentioned that mistakes only make you better in the pool, even if those mistakes result in belly flops.
In speaking about what makes her proud about being an athlete at Wayland-Cohocton, she said:
"Being the only diver on the varsity team for the past 3 years has been such an amazing experience. I'm extremely grateful for the amount of support I get from my team and school."
Favorite Food: Boneless wings
Pre-Meet Ritual: Listening to music and getting hyped with the team
Fondest Memory: Breaking her first diving record during her freshman season
Claire would like to thank Coach Welch and her Mom and Dad for their unwavering support. Having fun was the best advice she ever got over the years.
October Stats: 3rd place finishes in 200 Medley Relay, 50 Freestyle, and Diving (LCAA). 2nd place finishes in 200 Freestyle Relay (LCAA) and Class C Diving Finals (Sectionals)
Ben Teed has been selected as the male Athlete of the Month for October as a member of the Dan-Way-Co Varsity Football Team. Coach Knapp said "he has been a leader on the defense and when we need a few yards, he is the running back for the job." Ben has been playing football for a long time, 14 years in total with the past three at the varsity level. When asked what makes him proud to be an athlete at Wayland-Cohocton, he stated: "I personally never thought I would win this award. Seeing myself improve through the years to be able to receive this award is what stands out the most."
When asked what it takes to be successful in football, Ben stated:
"Putting in the work during the off-season. The coaches will get everyone coached up but the team needs to give it their all."
Favorite Food: Tacos
People to Thank: All the coaches and teammates, especially the O-Line
Fondest Memory: All the times spent laughing and joking during practices
October Stats: 350 yards rushing, 6 touchdowns, and a team-leading 60 tackles on defense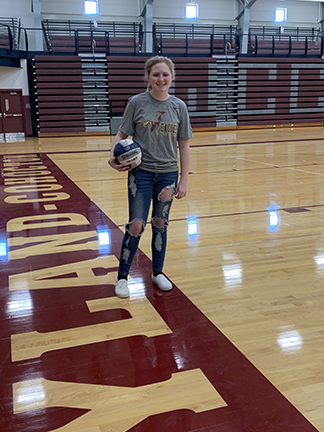 Michaela Earley
Michaela Earley has been selected as the female Athlete of the Month for September as a member of the Girls Varsity Volleyball team. Now in her 3rd year at the varsity level and team captain, Coach Jerome says "she has really matured this year and is playing her best." Michaela credits hard work and a good mindset to earning this recognition. She would like to thank her coach for believing in her when nobody else did and for always believing in the team.
When asked to provide some inspiring words, here is what she had to offer:
"Never give up on something, even though you are losing. If you're losing by the score, it doesn't show how successful you really are. Put in your goals and reach for them. It's the best feeling when you overcome those goals. Trust me!"
Nick Name: "Rocket"
Favorite Food: Mac 'n Cheese
Pre-Game Ritual: Monster Energy Drink
Fondest Memory: Team sleepover at school
September Stats: 14 kills, 1 block, 28 digs, and an 80% service percentage.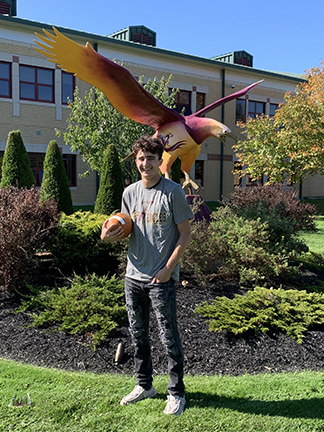 Collin Mehlenbacher
Collin Mehlenbacher has been named the male Athlete of the Month for September as a member of the Dan-Way-Co Varsity Football Team. Now a 3rd year starting receiver and defensive back, Coach Knapp stated "Collin has been a big factor in our team's success this year as his growth and maturity has made him a leader on and off the field." Collin says it takes brotherhood, determination, and mentality to be successful on the football field along with a "ready to play" approach to practices. He would like to thank his coaches and parents for pushing him to be his best during his 12 years as a football player.
When asked about his fondest memory from football, Collin stated:
"I'd have to say winning a football game is one of the best feelings in the world, especially any time we won hard-fought games."
Nick Name: "Petey"
Favorite Food: Steak
Pre-Game Ritual: A quick prayer with teammates and getting hyped right before kickoff
September Stats: 13 carries for 201 yards, 3 rushing touchdowns, 1 punt return for a touchdown, 25 tackles, 1 sack, and 3 tackles for loss.