WELCOME TO THE WAYLAND-COHOCTON RETIRED TEACHERS ASSOCIATION WEBPAGE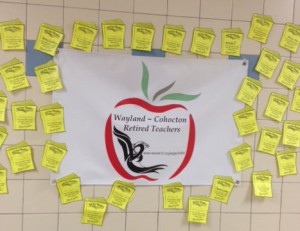 ORIGINS OF THE WAYLAND RETIRED TEACHERS ASSOCIATION
(AS WRITTEN IN 1995 BY MARY E. EAGER, A WAYLAND HIGH SCHOOL TEACHER)
Food Donations to the Cohocton and Wayland Pantries collected by the Retired Teachers at Christmas.
The Wayland Retired Teachers Association was organized in July 1970 and was, at that time, known as the Wayland Retired Teachers Club. The nucleus of the club came from the large numbers of teachers who retired in 1970, and were joined by earlier retirees. The formation of this group had been strongly urged by Dr. Pearl Gardner, but she did not attend. Dr. Gardner was still working at Wayland School at the time. The first meeting of the Wayland Retired Teachers Club was held at the home of Helen Owen in Livonia. The group elected Helen Owen to be president and Esther Johnson as secretary.
The club was oen to retired teachers who had taught at Wayland Central School. There was a written constitution which was subsequently lost, as was the first secretary's book with the minutes of the meetings from 1970 through November 1974. The group was to meet once a month, but dues were not collected until a later time.
The original members of the group were as follows:
Evelyn Hewitt Ames

Blossom Chapman

Ruth Foster

Esther Johnson

Wilma Losey

Mabel Loveland

Florence Mehlenbacher

Helen Owen

Elsie Shaw

Aura Snell

Lucille Zimmer

Marion Zimmerman
(Sources of information: Helen Owens, Aura Snell, Ruth Foster and other members of the original group)
Merger Brings Group to Current Standing
(submitted by Teresa Stephens)
In 1993, Wayland Central School merged with Cohocton Central School. The Wayland Retired Teachers welcomed the Cohocton teachers to join their group, thusly becoming the Wayland-Cohocton Retired Teachers Association. Current Officers are:
President: Mary Lou Kiesl

Vice-President: (vacant)

Secretary: Sandra Shaffer

Treasurer: Wilma Buckley

Steuben County Retired Teachers Association/Central Western Zone Delegate: Jane Behnk

Friendly Services: Judy Lynn

Liaison to WCCS: Julee Acomb and Judy Rowley

Computer Resources Person: Carol Griffen

Public Relations Person: Teresa Stephens
This group gathers every third Wednesday of the month, April thru December, at various restaurants around the area to accommodate travel from teachers living far away. Members pay an annual dues and bring nonperishable items for the Wayland and Cohocton Food Pantries.

Along with the monthly food donations, the 70-plus member group also donates to the Mitten Fund. This money is donated to the school nurses to help provide the necessary warm articles (mittens, hats, scarves, socks) to needy students in the district. Annual donations are made to The Vincent House located in Wayland. The Association supports the Retired Teachers Foundation Scholarship. Many of the members work at the annual Wayland Elementary Book Fair that is held every fall.

The Wayland-Cohocton Retired Teachers Association is proud to continually support public education and provide a helping hand to the communities of Wayland and Cohocton.