Hello Wayland-Cohocton Families! Just a friendly reminder that Junior Varsity and Varsity sports registration is currently open for upcoming fall sports teams and will remain open through Sunday of the upcoming weekend. On Monday August 2nd, modified sports teams registration will become active. Please make sure to sign up your athlete using the Athletics Team Registration link which can be found in the Athletics tab on the District website. For those registering an athlete for football, we want you to know that Varsity Football will be the only option when selecting a sport regardless of age or level of competition for registration purposes only. Athletes registering for football will be placed on appropriate rosters once the season begins. All athletes, including modified, JV, and Varsity will select Varsity Football when registering. On behalf of Wayland-Cohocton Athletics, we thank you for your time. Don't hesitate to reach out with questions or concerns.
Wayland-Cohocton Families: Don't forget registration for varsity and junior varsity fall sports opens today. Go to the ATHLETICS tab on the school website and click on the Athletics Team Registration link. Register this week!

This is Bob Toland, newly appointed Athletics Coordinator. We are excited to announce that online sports registration for the Fall 2021 season is opening soon! Junior Varsity and Varsity sports registration will open Monday July 26th and close Friday July 30th. Modified sports registration will open Monday August 2nd and close Friday August 6th. Please visit our District website Athletics tab and click on Athletics Team Registration. You will find the link to register your athlete along with specific instructions to help. As I'm sure issues may arise, please do not hesitate to contact me at 728-2366 ext. 3192 or Karen Oas at 728-2366 ext. 3367. You will receive this information via email and/or text message for athletes in grades 7 through 12. Thank you on behalf of Wayland-Cohocton Athletics for pursuing the many opportunities our District has to offer. We look forward to seeing registrations start filing in next week for high school sports and the following week for modified sports teams.
Reminder: Classroom learning supplies for the 2021-2022 school year are provided by Wayland-Cohocton. Student should have a backpack or bag for carrying work back and forth and sneakers (change of clothing for older ages) for physical education or playground time. Information regarding classroom assignments and other items will be forthcoming in the next few weeks.
Free summer meals will be available at Wayland-Cohocton from July 12th through August 12 in the middle school cafeteria, Mondays through Thursdays. Breakfast will be from 8 to 9 a.m. and lunch will be from 11:30 to noon. There will also be pick-up in the high school cafeteria from 11 am to noon. No paperwork/income requirements.
Wayland-Cohocton will rollover its website this week to an updated version. Please be patient over the next couple of weeks as we manage the links and information. Thank you.
Members of the Wayland-Cohocton Class of 2021 will be celebrating during Grad Bash this evening, Friday, June 25 at the Cohocton Sports Complex from 7 to 11 p.m. Please respect that nobody will allowed on complex grounds except for participating seniors and Grad Bash personnel. Chaperones will be making sure the fenceline stays clear of spectators. Thank you. The Grad Bash Committee appreciates all of the community support shown under these extreme circumstances.
Tonight's Board of Education meeting has been rescheduled to Monday, June 21 at 6 pm in order to accommodate the Softball Team's Section V Finals game tonight.
Wayland Elementary Morning Student Drop Off Reminder: Please do not arrive too early. Students will not be unloaded earlier than 8:55 am. When the traffic line is long, please proceed around the bus garage so as to allow the buses entry into the bus lane. When exiting, please give the buses the right-of-way into the bus loop. Please do not use the front parking lot adjacent to the bus loop for drop off. Thank you and drive safely.
CORRECTED INFORMATION: In a recent communication the start time for Regents exams was incorrect. Exams begin at 8 a.m. If you have questions regarding exams, please contact the high school office or the appropriate teacher.
Wayland-Cohocton reminds families, staff and the community that while state requirements for masking have lessened allowing vaccinated individuals to be maskless out of doors, NYS Education regulations have not changed. When on school grounds, inside or outside, during or after school hours, and at school activities like athletic competitions the community is reminded that they must be masked. This includes drop-offs and pick-ups, athletic events, playing on the playground after school hours, using the outdoor track facilities or walking on campus. WC appreciates everyone's cooperation as we continue to have COVID-19 cases in school. It is important that students can finish the last few weeks of school and participate in year-end activities.
The last Wayland-Cohocton supply pick up for 100% remote learners will be on Tuesday, May 11 from 3 to 5 p.m. in the fieldhouse parking lot. This pick up is for all remote learners K-12. Families are asked to display am 8x11 sheet of paper in the passenger side window with each child's name written on it. This helps to keep the line moving quickly.
Wayland-Cohocton Middle and High School Families: Please check your email for an important message from the superintendent regarding the return to school four days per week.
Reminder:There is a 100% Remote Learner supply pick up now until 5 p.m. behind the field house.
Wayland Elementary reminds families to complete the Health Portal each morning before arriving. Monday morning there were some technical issues, however, 173 students did not complete the app and therefore 173 temps had to be taken at school. The school does not have the capacity to monitor at this rate. Please be certain the APP is complete before the bus or departhing for school. Thank you: Portal Link:
https://www.studentehr.com/
Wayland-Cohocton Class of 2021 Families: Your senior students should be bringing home a Class of 2021 yard sign to celebrate their senior year. Remote learners may pick theirs up from the High School office on school days between the hours of 9 a.m. and 3 p.m. Post those signs in your front yard to celebrate!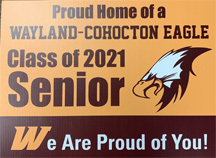 Reminder: Wayland-Cohocton transportation information needs to be filled out by the end of the day. The link to the form was sent home in an email regarding returning to classes four days per week. If you did not receive the email, please contact your child's school office.
Reminder: In-person information meeting on Wayland-Cohocton proposed capital project tonight, Monday, April 5 at 6 p.m. in the Performing Arts Center. Masks and social distancing required. Information on Thursday's virtual meeting has been posted to
www.wccsk12.org
and school Facebook pages.
Wayland-Cohocton reminds families that there is school tomorrow, Friday, March 12. Friday is NOT a conference day.
Don't forget the 100% remote supply pick up today March 2 from 3-5 pm at the fieldhouse parking lot.